A blow torch brings drama to the kitchen…in a good way. How else you can get that perfectly caramelized sugar in seconds flat?
During my recent blow torch adventure I was a little hesitant at first. It seemed scary! But the truth is that once you master your flame, cooking with a blow torch is easy and useful. Blow torches let you caramelize, brown, roast, crisp-ify (no, that's not a word), and heat exactly the way you want in a short amount of time.
Choosing Your Blow Torch
I used the mini chef's torch you see above, but you don't have to limit yourself to a  "kitchen torch." In fact, a higher powered blow torch will get you results much faster, AND you can use it for all that metal soldering you do.
But then again, if you don't want a huge butane canister under your sink, then this crème brûlée torch (pictured below) may be more your speed.  By the way, you can use the torch for much more than crème brûlée, as I'm about to prove with red peppers and pine nuts.


Iwatani International Corp. Creme Brulee Torch, Each, White
(affiliate link)
Blow Torch Sauce and Dip Recipes
Roasted Red Pepper and Feta Dip Recipe
I was inspired by the dip recipe over at Much to My Delight (recipe here), but I didn't use store-bought roasted peppers nor did I puree the dip. Instead, I served it more like a fresh salsa.
*1 red pepper, roasted with a blow torch
*1/2 cup feta cheese
*1 clove garlic
*1 tsp. paprika
*1 tsp. Italian seasoning
*Juice of 1/4 lemon
Instructions: Combine all ingredients in a bowl. Mix well and serve.
Roasting red peppers with a small kitchen torch will take a long time. You'll need patience. I've got to believe that it's more efficient to a) roast them in the broiler, b) throw them on the grill, or c) rest the peppers over your gas stove.
However you do it, the end product will be good. Red pepper salsa makes sense!
Red Pepper Pesto Recipe
While roasting red peppers with a mini-blow torch may be tedious, browning pine nuts with a blow torch takes less than a minute. The popping and sizzling sound is satisfying, too. After roasting the pine nuts, I headed over to The Perfect Pantry and followed the pesto recipe she posted there. Oh, and in case you don't remember, you should always make pesto at home; don't buy it at the store.
Pine Nut and Tomato Bruschetta Recipe
I used the remainder of the roasted pine nuts to make a fantastic bruschetta. I highly recommend this one for your next dip party.
*1 tbsp. olive oil
*1 shallot
*1 garlic clove
*1 tomato, de-seeded and chopped
*1/4 c. roasted pine nuts
*1 tbsp. balsamic vinaigrette
*3 fresh basil leaves, chopped
*Salt and pepper to taste
Instructions: Heat up olive oil on stove top. Throw in shallot and garlic and cook until soft. Put mixture in a separate bowl and add all remaining ingredients. Stir well.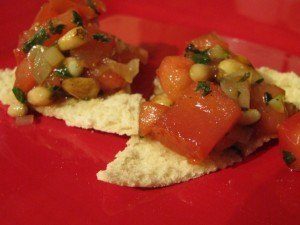 Alas…The Crème Brûlée
You can't talk about cooking with a blow torch and not mention crème brûlée. Direct heat on sugar results in caramelization…that delicious crunchy goodness on top. That crunch, by the way, is the only reason I eat crème brûlée, and I crave it often.
I'm not going to share the recipe I followed for this crème brûlée, because it tasted like eggs. But I will tell you that it was super easy to make the crisp top layer. Simply sprinkle brown sugar over the custard and torch that puppy. Tastes goooood…..