on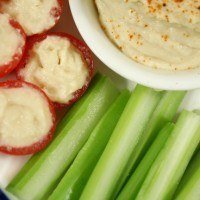 Sometimes it's the dip that makes you go "yum," and sometimes it's the vehicle to which you get the dip in your mouth that makes you go "yum." If you're lucky both the dip and the  dipping tool please the buds – taste buds that is.
The following 50 ways to dip include a few of the ways I like to dip. The odd ones link to online recipes.
…
1. Toasted tortillas
2. Tortilla chips
3. Bagel chips
4. Corn chips
5. Potato chips (with or without ridges)
6. Triscuits
7. Lavash crackers
8. Cheddar crackers (store bought or homemade)
9. Wheat Thins
10. Ritz Crackers
11. Potato crackers
12. Chickpea crackers
13. Rice crackers (some even come with bugs)
14. Rice cakes
15. Saltines
16. Vanilla Wafers (for sweet dips)
17. Animal crackers
18. Graham crackers
19. Melba Toast
20. Pita bread
21. Pita chips
22. Pretzels
23. Flat bread
24. Ciabatta bread
25. French bread
26. Italian bread
27. Corn bread (cut into small cubes and serve with toothpicks)
28. Garlic bread
29. Veggie Stix
30. Bread sticks out of the box
31. Mexican bread sticks
32. Scallion pancakes
33. Baby carrots
34. Peppers
35. Celery
36. Cauliflower
37. Broccoli
38. Pickle spears (as long as they're crispy)
39. Cucumber slices
40. Zucchini slices
41. Squash slices
42. Button mushrooms
43. Radishes
44. Cherry tomatoes
45. Edamame
46. Apple slices
47. Strawberries
48. Grapes, bananas, pineapple (with the aid of a toothpick or skewer and not necessarily together)
49. Hard salami
50. Chicken strips
I know I've missed other ways to dip. How do you dip?