You may remember my post from couple weeks back "10 Ways Sauce Can Save a Life." Well, that post was in anticipation of the 9Health Fair Fundraiser, which I attended last Thursday night here in Denver.
The event featured 16 local restaurants and one of their small plate creations that included a sauce, hence the name of the event — A Saucey Affair. Seeing how this is a great cause and I'm a sauce lover, I was more than excited to go. So, I brought a friend…
Meet Lindsay. She likes sauce, too.
When we arrived that night we noticed Avenue Grille right away. We didn't care that they were offering up dessert…we were hungry! What good is a food fest if you can't break the rules a little?
Avenue Grille, a San Francisco style neighborhood bar and grill, served a cream-filled pastry with a strawberry margarita sauce.
Whoa. As you can tell, we both liked it.
Next, we worked our way past the crowd and ended up at the Encore Restaurant table. Encore, which serves new American cuisine with a twist, presented a sweet potato gnocchi with a poblano pumpkin cream sauce. We liked it, however, both Lindsay and I agreed that we could've used a little more gnocchi and a little less sauce.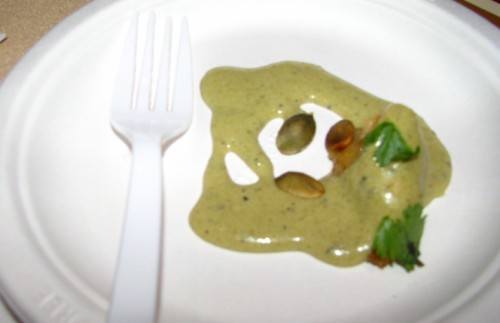 Would you believe it if I told you that the first two restaurants we visited were the two winners of the event? Avenue Grille took "Best of Show" from the judges and Encore took "Best of Show" from the crowd.
Over the course of the evening we tried most of the other restaurants, but we spent too much time chatting and didn't have enough time to try them all. That and the Housewives of DC reunion was on and we wanted to watch it. Don't judge. It's an addiction.
All jokes and talk of sauce aside, the 9Health Fair is a fantastic Colorado non-profit organization that provides educational programming and free and low cost health screenings. This is an important cause and one that you can contribute to > donate here.
If you're not a Denver local, then you may not feel compelled to give, but certainly there are similar organizations near you that also focus on community health. Give back and give thanks for your health.
***
ps – Wondering about the first photo for this post? Ha. Well, the witch's hat is in honor of this week's Halloween-themed Dipstock, and the beer glass, sunglasses, and pamphlet came from my night at A Saucey Affair. As you can see, I had a fun weekend in the kitchen.