on
For many of us, Halloween is about fancy costumes and candy corn. That's what we know, but is that how it should be?
One organization believes that Halloween shouldn't be the way that it's always been. Green Halloween is a non-profit organization devoted to healthy Halloween and a sustainable, environmentally-friendly Halloween. I'm very honored to have a guest blog post up on their blog today. My post is about how adults can prevent themselves from sneaking candy from the candy dish…something all of us are guilty of doing.
Sneaking an apple would be better or maybe even a dip! How about making the healthy cilantro yogurt dip posted below and keeping that handy for when the urge to sneak a bite-size chew overwhelms you.
Click on over to Green Halloween and read my blog post Five Ways to Avoid Sneaking Candy from the Candy Bowl. While you're there, see some of the awesome press coverage they've been getting from Real Simple magazine and Good Morning America among others.
You don't have to buy candy this year and you don't have to buy new costumes either. Go Green for Halloween!
Cilantro Yogurt Dip Recipe
*1 cup plain yogurt
*2 tbsp. cilantro (no stems)
*2 sweet peppers
*1 clove garlic
*dash of salt
Directions: Strain yogurt for 20 to 30 minutes. Throw all ingredients (except yogurt) into food processor stopping once or twice to push down the food on the sides. Add yogurt to processor and blend to desired consistency. Serve with carrots or other veggie slices.
Notes: I added a couple tablespoons of black beans to my dip mostly because I had some in the fridge and felt like experimenting. It didn't add much flavor, so I'm not recommending you do that here. Also, my version of cilantro yogurt dip is runny. If you prefer a thicker dip, don't use the food processor. Simply chop the cilantro, peppers, and garlic and mix into yogurt (adding salt last).
Download the Saucy Dipper Cilantro Yogurt Dip recipe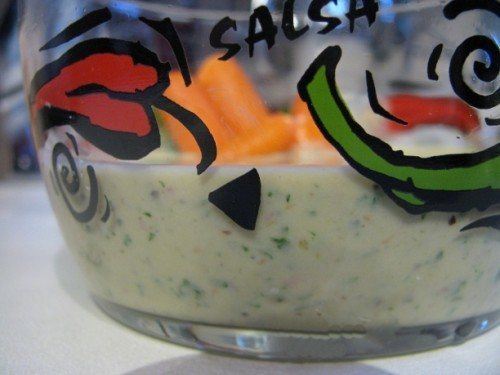 ps – It's day five of Dipstock! You've got four more days to make a dip and share it with the Saucy Dipper. Who knows, you might just win a few full value coupons from our sponsors.