on
Warning
: Division by zero in
/srv/users/serverpilot/apps/saucydipper/public/wp-content/themes/CherryTruffle/functions.php
on line
2
Warning
: mysqli_num_fields() expects parameter 1 to be mysqli_result, bool given in
/srv/users/serverpilot/apps/saucydipper/public/wp-includes/wp-db.php
on line
3353
Warning
: Division by zero in
/srv/users/serverpilot/apps/saucydipper/public/wp-content/themes/CherryTruffle/functions.php
on line
2
Warning
: mysqli_num_fields() expects parameter 1 to be mysqli_result, bool given in
/srv/users/serverpilot/apps/saucydipper/public/wp-includes/wp-db.php
on line
3353
Warning
: Division by zero in
/srv/users/serverpilot/apps/saucydipper/public/wp-content/themes/CherryTruffle/functions.php
on line
2
Warning
: mysqli_num_fields() expects parameter 1 to be mysqli_result, bool given in
/srv/users/serverpilot/apps/saucydipper/public/wp-includes/wp-db.php
on line
3353
Labor Day is coming up and that means you're most likely going to grill. You gotta get at least one more summer meal in…right? Since rediscovering our grill (We moved and now have the space!), we've had about every type of grilled meat available…including burgers, of course.
To spice up the ordinary burger, I whipped up my own version of McDonald's Special Sauce. Not sure what I'm talking about when I say "special sauce?"
Well, some people–like my husband–think it's thousand island dressing, and others–mostly Big Mac Lovers–think it's some kind of magical combination of creamy goodness and relish. I'm not a huge fan of fast food, but I have had my share of Big Macs, so I can appreciate the difference.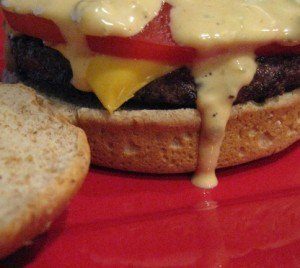 Here's my version of McDonald's Special Sauce. Keep in mind that it's not the actual recipe, just my attempt.

This Is Not McDonald's Special Sauce Recipe
½ c. mayonnaise
2 tbsp. sweet pickle relish
1 tbsp. ketchup
1 tbsp. yellow mustard
2 tsp. white vinegar
1 tbsp. white onion, minced
1 tsp. sugar
salt and pepper
Throw ingredients in bowl.
Stir.
Eat.
This made A LOT of sauce. Probably 8-10 servings worth. If you're cooking for one or two, I suggest cutting this recipe by more than half.