on
Warning
: Division by zero in
/srv/users/serverpilot/apps/saucydipper/public/wp-content/themes/CherryTruffle/functions.php
on line
2
Warning
: mysqli_num_fields() expects parameter 1 to be mysqli_result, bool given in
/srv/users/serverpilot/apps/saucydipper/public/wp-includes/wp-db.php
on line
3353
Warning
: Division by zero in
/srv/users/serverpilot/apps/saucydipper/public/wp-content/themes/CherryTruffle/functions.php
on line
2
Warning
: mysqli_num_fields() expects parameter 1 to be mysqli_result, bool given in
/srv/users/serverpilot/apps/saucydipper/public/wp-includes/wp-db.php
on line
3353
Warning
: Division by zero in
/srv/users/serverpilot/apps/saucydipper/public/wp-content/themes/CherryTruffle/functions.php
on line
2
Warning
: mysqli_num_fields() expects parameter 1 to be mysqli_result, bool given in
/srv/users/serverpilot/apps/saucydipper/public/wp-includes/wp-db.php
on line
3353
Wondering what's in this tidy looking package here? It's a creamy feta olive dip. And you can't beat olive dip. It's a favorite in my house.
I made this dip for a football party a few weeks back, and it turns out it was a favorite in somebody else's house, too. I hope you give this olive dip recipe a try at your home and tell me how it goes.
But before I share the recipe…have you shared your favorite Super Bowl dip recipe yet? Dipstock is going on RIGHT now. By sharing a link on the Master Super Bowl Dip List or posting the recipe to the Saucy Dipper Facebook page you could win a dip tray and a free shipment of endive from Discover Endive. Share your favorite dip recipe before February 9 to win.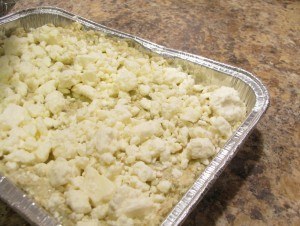 This recipe was inspired by Lighter and Local's Creamy Olive and Feta Dip

2 c. green olives (with pimentos)
1 tsp. capers
1 tbsp. olive oil
2 bunches of scallions, chopped fine
3 garlic cloves, minced
1, 8 oz. pack of light cream cheese
½ c. feta crumbles
Preheat oven to 350 F.
Blend olives and capers in food processor.
Let olive mixture rest while you saute onions and garlic in olive oil.
Once onions have softened add cream cheese.
Stir until cream cheese is gooey and thin.
Toss in the olive mixture to the cream cheese mixture and stir until mixed well.
Pour dip into pie dish or other oven friendly dish.
Top with feta.
Bake for 30 minutes or until warm and bubbly.
Serve with good bread or another dipper of your choice.