on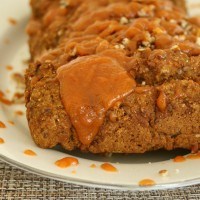 The glaze. The easiest and possibly sweetest frosting. It's so versatile. Add a little vanilla or a touch of lemon or whatever! Everything goes with milk and sugar!
I chose to make a pumpkin glaze since I still had some around after the holidays. (Pumpkin season is over when I say it's over!)  The flavor combo worked nicely with a low-sugar banana bread. (Actually it was more like a banana/pumpkin bread. I had LOTS of pumpkin to use.)

Pumpkin Glaze Recipe
1 c. confectioner's sugar
2 tbsp. milk (or more if needed for the right consistency)
2 tbsp. pumpkin
Instructions: Combine all ingredients in bowl. Whisk until smooth. Pour, drizzle, or dollop on any baked good.
Now this bread-glaze combo was made on day 3 of my 31 day cooking challenge, which I am affectionately calling #31daycooks. I've been talking a lot about the food I've been experimenting with on social media, but today I thought I'd give a quick re-cap. I'm nearly 1/4 of the way there, and I'm having so much fun!
Day 1: Ketchup. A bit of a process.
Day 2: Poached eggs. So easy. The best part is swirling the water and dropping in the egg.
Day 3: Banana bread with pumpkin glaze. You already got the low-down on this one.
Day 4: Homemade pop tarts! I learned a couple things about baking on this day. Most important lesson, I need to practice my baking skills.
Day 5: Roasted chicken. So delicious (and cheap) that it's worth doing every time.
Day 6: Pomegranate smoothie. I was tired of eating pom arils on their own, so I made a pom, banana, and yogurt smoothie. Delish! Though, I'd recommend pomegranate juice instead of arils. The seeds get irritating.
Day 7: Imitation LARABARS. Seriously, all I did was throw dates and mixed nuts into a food processor and then mold. Great snack.
***
Check back next Wednesday for another Saucy recipe and an update on my cooking challenge.