Since having the first little dipper — Maggie — I've lost all free time for cooking and heading out to new restaurants. Having the second little dipper — Fletcher — hasn't improved my culinary status either. Now, that doesn't mean I don't still enjoy tasty food, especially where sauces are concerned, it's just harder to come by.
When the folks at bd's Mongolian Grill invited me to their Downtown Denver location and included the words "delicious sauces" in the invitation, I forced myself to find the time — although it did take me several months to write a blog post about it. (Sorry, bd's!)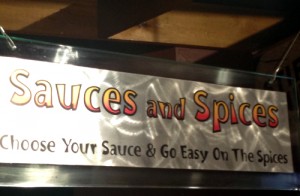 My bd's experience came in two parts. First, a fun evening out with fellow food bloggers and friends of food bloggers for #denverbdsblognight. We sampled so many amazing dishes — like the crab rangoon, fried rice, and street tacos — that by the time we were invited to the grill to make our own stir fry, I was stuffed.
So, my pal Lindsay and I decided to go light with a simple veggie stir fry covered in soy sauce and a touch of ginger (pictured on the grill above). It was perfect.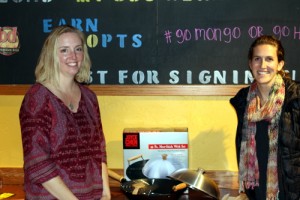 In fact, the night was perfect. The food and company was delightful. The best part? Lindsay won a wok! bd's was very kind to provide gifts to everyone who attended the event as well as raffle off a wok that Lindsay says, "Is the best thing I've got going in my kitchen right now."
Thanks, bd's!

The second part of my bd's experience included a follow-up meal with my family. My husband and I thought for sure we should leave the kids at home. At ages 4 and 1, they aren't easy dinner guests.
The stars weren't aligned, so we decided against our better judgement and brought the kids with us one Saturday afternoon for an early birthday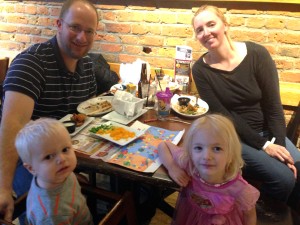 dinner. (Happy birthday, Jason!) To our surprise, bd's turned out to be very kid friendly. Kids eat free if they choose the grill, and, if not, there are affordable kid-friendly menu options. Our kiddos were happy with the salad bar and a noodles, meatballs, and marinara concoction.
Us grownups enjoyed crab rangoon (because it's my favorite), headed to the grill for some spicy shrimp and rice stir fry and a REALLY spicy beef and noodle stir fry, and then finished it off with cheesecake, because what kind of birthday dinner would it be without cake?!?!?
Overall, I enjoyed both visits to bd's, and I especially enjoyed the opportunity to head downtown and visit the city center I used to spend so much time in, sans the little dippers.