on
I've established that I'm a novice sauce maker, but what I haven't established is that I'm a pro at eating them. Seriously, sauce (and bacon) makes everything better.
As the first in a long series of posts about how to make sauce, I'm covering an easy cranberry sauce. This recipe is so simple that I actually questioned if it was even a sauce at all. So, I headed on over to the Epicurious.com food dictionary and entered "sauce."
In the most basic terms, a sauce is a thickened, flavored liquid designed to accompany food in order to enhance and bring out its flavor.
Alright then, my cranberry sauce is, in fact, a sauce. Let's go!
Here's the recipe I based my version on. I grabbed it from over at AllRecipes.com.
Cranberry Sauce Extraordinaire
* 1 cup water
* 1 cup white sugar
* 1 (12 ounce) package fresh dried cranberries
* 1 orange, peeled and pureed
* 1 apple – peeled, cored and diced
* 1 pear – peeled, cored and diced
* 1 cup chopped dried mixed fruit
* 1 cup chopped pecans
* 1/2 teaspoon salt
* 1 1/2 teaspoon ground cinnamon pumpkin pie spice
* 1/2 teaspoon ground nutmeg
Directions
In a medium saucepan, boil water and sugar until the sugar dissolves. Reduce the heat to simmer, and stir in cranberries pureed orange, apple, pear, dried fruit, pecans, salt, cinnamon and nutmeg pumpkin pie spice. Cover and simmer for 30 minutes, stirring occasionally until the cranberries burst. Remove from heat and let cool to room temperature.
*****
I'm sure you noticed the text with strike through and blue font. Some items listed on the original recipe I chose to modify or omit for convenience and/or budget reasons. The two main departures being the dry cranberries and the pumpkin pie spice. The bottom line here is that  I didn't want to turn this into a $40 sauce — simple enough.
The instructions were pretty straight forward, and I didn't have any complications, though, I did leave the sauce on the stove top for longer than 30 minutes (closer to 40 minutes). I taste tested until I had the right consistency and flavor for my preference. This is how it started: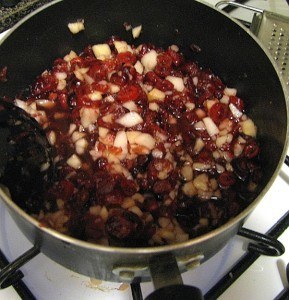 The real fun came when I paired the sauce with different foods including ice cream, cereal, yogurt and granola, turkey sandwich spread, crackers with goat cheese (my favorite and the snack pictured above), plus this delightful waffle.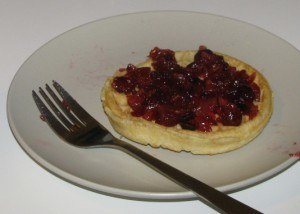 Who knew cranberry sauce was so versatile? What foods do you pair with cranberry sauce?