on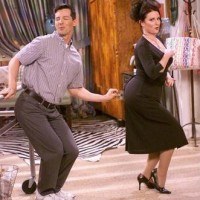 ****updated October 21, 2010****
I feel like Karen and Jack must've felt in Will & Grace. Remember when someone in the scene would say a seemingly innocent word that could easily be spun into a dirty word? Oh, how Karen and Jack would laugh.
Cheese ball.
(Withholding laughter.)
Tee hee.

And I'm back…
Some friends of ours recently hosted a lovely dinner gathering (there was bacon flavored ice cream involved; stay tuned for that one), and I was tasked with bringing cheese and crackers to the event. Since launching the Saucy Dipper, I'm not capable of bringing just cheese and crackers. I had to bring a cheesy dip! There was no other way.
I decided the event called for a special cheese ball. This cheese ball deserved toppings.
But before I get into the recipe, I must share some fascinating cheese ball facts (still laughing a little).
Some say April 17 is National Cheese Ball Day.
The New York Times says the cheese ball got a bad rap during the days of shag carpet. Since the early 2000s, cheese balls have come back in style. Thanks fancy cheeses!
UrbanDictionary.com says several things about cheese balls. My favorite definition: "Someone, usually a male around his teenage years, who pretends to be funny. He uses mostly slapstick humor (usually involving the removal of his own clothing or the putting on of woman's clothing), corny old jokes or in general just acts like a three year old."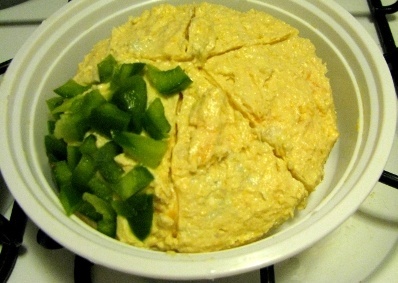 How to Make a Cheese Ball
Ingredients:
*8 oz. cream cheese
*4 oz. blue cheese
*4 oz. cheddar cheese, grated
*1 bunch of green onions, chopped
*2 garlic cloves, minced
*2 tsp. salt (or more)
*1 1/4 cup toppings of your choosing (e.g., bacon, green peppers, paprika, walnuts, olives)
Directions: Combine all ingredients in a mixing bowl. Mix well. Do your best to break up blue cheese thoroughly. With you clean hands, shape the cheese mixture into a ball and place on serving platter. Use a knife to delineate sections for toppings. Sprinkle toppings and use a chopstick to gently push in place. Serve with crackers, pretzels, or veggies.
Download cheese ball with toppings recipe.
The assortment of cheese ball toppings is a good idea. I stand by that. But I think it's best to stick with two to three toppings only. Five toppings meant there were only a few bites for each.  Of the five toppings, bacon and olives were the favorite (shocker).