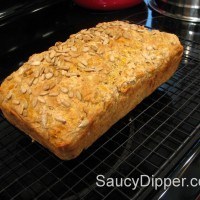 Help me welcome my husband, Jason, today. This isn't his first time writing for the Saucy Dipper, but it is one of the best things he's made yet.
***
Here's a nice little beer cheese bread recipe I stole from Alton Brown of Good Eats (see the original recipe). Here's how I made it, some photos, and some other notes.
A couple of items:
First, I went off book a little and substituted 1/2 teaspoon of dry dill for 1 tsp of fresh dill. This may have dried things out a bit.
Second, I used Belgian Ale. It has a pretty strong flavor to begin with, and then mixing it into cheese bread takes that flavor to another level – this bread tastes a lot like beer. If you want a milder, more bread flavor, I'd suggest using a mild light beer. (more…)