Posted by
Oct 30, 2010
in
Dip Recipes, Dipstock
|
6 comments
on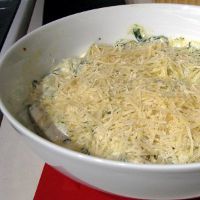 Another wonderful Dipstock dip creation and guest post from my husband, Jason. If I play my cards right, maybe I can stop calling him a guest and make him a regular Saucy Dipper contributor. Help me entice the husband by reading his delightful post and peppering him with compliments in the comments. We'll both love you for it. 😉
****
First, a little disclosure: I'm a big fan of the cheesy, corny, science-heavy cooking show Good Eats. Alton Brown has taught me a lot about cooking and inspired me to try dozens of recipes I wouldn't have bothered with in the past.
Brown has also given me the confidence to freelance — to go off script with most recipes. What started out as a simple and somewhat precise spinach artichoke dip recipe turned into a I-just-got-back-from-the-gym-and-damn-it-I-want-me-some-dip recipe.
Ingredients
First, here's how it's SUPPOSED to be assembled:
1 cup thawed, chopped frozen spinach
1.5 cups thawed, chopped frozen artichoke hearts
6 ounces cream cheese
1/4 cup sour cream
1/4 cup mayonnaise
1/3 cup grated Parmesan
1/2 teaspoon red pepper flakes
1/4 teaspoon salt
1/4 teaspoon garlic powder
Here's how I did it (and why):
1, 10oz package of thawed, chopped frozen spinach (too lazy to measure out things in cups)
1, 14oz can of thawed, chopped frozen artichoke heart quarters (no frozen hearts at my grocery store)
1, 8oz package cream cheese (what's an extra 2 ounces?)
1/3 cup sour cream (1/4 cup just didn't seem like enough)
1/4 cup chipotle mayonnaise (I like me some flavor)
1/3 cup shredded Parmesan
A few vigorous shakes of the red pepper flake bottle
No salt…because I used canned artichokes and they have plenty already
Oops. I used too much garlic powder (it worked out fine)
Preparation
The original instructions are to boil the spinach and artichoke hearts until they're hot, warm up the cream cheese in the microwave, and then mix everything together. Once it's all integrated, it's ready to serve.
Me? I boiled the spinach for about a minute, drained it, tossed the cold cream cheese package in the same pot, and then when it was warm I dumped it into the serving bowl along with all the other ingredients EXCEPT the Parmesan cheese. (Note: I drained and rinsed the artichoke hearts pretty throughly before adding them).
My last step was to cover the whole thing with shredded Parmesan cheese and then huck it into the oven at 350F for about 5 minutes (as long as it took me to clean up). THEN I served it.
The Verdict
You can't screw this thing up. It's got too many artichoke hearts in it, but I really like artichoke hearts, so no problems. The Dipper liked it too. If I had it to do over again, I would have let the dip sit in the oven a little longer until all the Parmesan was melted.
Like my recent tapenade recipe, this is going into my cooking toolbag. It's really easy to slap together fast, and it's great party food.
****
Two more days of Dipstock left. Don't forget to share your photos and recipes on the Saucy Dipper Facebook group.