on
If I tell you something, will you promise not to make fun of me? Will you promise not to hold it against me years to come?
You promise?
Okay, here goes…
I put my hand in a blender.



The cheese ball incident went a little like this:
1) An invitation to a girls-only gathering arrives in my inbox and I immediately start plotting to make a cheese ball, per the special request of the hostess.
2) I get my hands on some Seriously Sharp Cheddar from Cabot and do everything I can to forget about it in the fridge until cheese ball day.
3) Cheese ball day arrives and I'm excited. I'm shredding. I'm having a great time in the kitchen.
4) I decide to use my immersion blender to mix up the cheese ball. I don't choose the blender because it's the best choice…because it's not. A mixer would work way better. But it was handy, and I was in a hurry.
5) The cheese ball is done. I make a few mini-versions to enjoy ahead of time.
6) I notice the blender is packed full of cheesy goodness, so I use a couple clean fingers to dig it out.
7) Oh, S#%!. I accidently hit the button.
I know what you're thinking…Why didn't you unplug the blender? Why did you put your stupid fingers in there? Why did you use a HAND BLENDER TO MAKE A CHEESE BALL? Those are all very good questions, and I wish I had an answer for you.
Call it a blond moment. Call it a lapse in judgment. I call it an unfortunate cheese ball incident.
Not to worry, though. A trip to the emergency room was probably not necessary. Aside from a fingernail that will never be the same, all is well. No stitches, no broken bones. The girls even got to enjoy the cheese ball.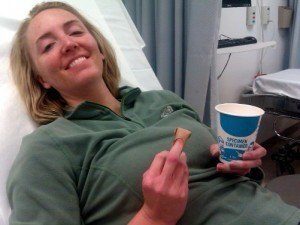 As you can see in the photo, it was my middle finger that got mangled. And, yes, I am drinking from a specimen cup…apparently that's all they have for drinking water in the ER.
Recipe for a Naked Cheese Ball
*8 ounces cream cheese
*8 ounces sharp cheddar cheese, shredded
*2 tsp. Worcestershire sauce
*1 tsp. lemon juice
*1 tsp. Dijon mustard
*1/2 tsp. salt
How to safely make a cheese ball: Mix all the ingredients together with a MIXER. Using clean hands, shape cheese mixture into a ball or log. You can even make mini-cheese balls like I did.
A lot of cheese balls have parsley, nuts, or some other kind of garnish coating the cheese ball. This one does not, which is why I call it a naked cheese ball. Really, you can't go wrong here.
****
ps – This is my second cheese ball. The first one went off without a hitch. You can read about it here: How to Make a Cheese Ball.