I bought a jar of mango chutney to make a curry cream for chicken soup a couple months back (it was wonderful). The recipe called for 1/4 cup mango chutney, which left me with quite a bit of leftover. What to do?
Turns out there's a lot you can do.




Brie and Mango Chutney Rolls
To make this delicious side dish, get a can of your regular ol' Pillsbury biscuits. Peel each biscuit in half, spread a tablespoon of mango chutney on one side of the biscuit, place a triangle of brie on the chutney, and put the second half of the biscuit on top. Bake at 350 degrees F for 17 minutes and voila!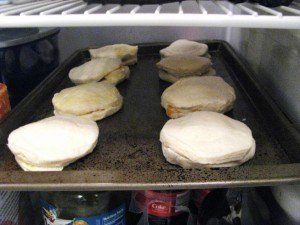 Here they are chillin' before one of my dip parties…
Mango, Lime, and Chutney Sauce
Mango, lime, and chutney sauce will certainly spice up a boring chicken or turkey meal. I followed a sauce recipe over at Food Network, but modified it by using mango chutney instead of fresh mangoes.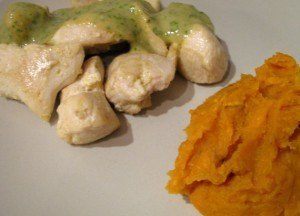 Other Ways to Eat Mango Chutney
Eat mango chutney as a sandwich spread.
Crackers topped with mango chutney and your choice of mild cheese.
Put a dollop of mango chutney on pork chops.
Mango chutney with a touch of curry and mayo will make for a great potato or chicken salad dressing.
Mix mango chutney, tofu, veggies, and rice for a full-on healthy meal.
Grilled fish with sauted vegetables deserve mango chutney for dipping.
Add mango chutney to your grilled ham and cheese sandwich.
Don't forget that spicy mango chutney will bring out the best in your vanilla ice cream.
What do you eat with mango chutney?