on
Simmering strawberries might smell a little better than simmering apples. But they're both scents from Heaven.
Maple syrup doesn't really float my boat…or my French toast, which is why I drizzle fruity sweetness on my pancakes or French toast. And this past weekend I didn't only make one fruit sauce. I made two.
Apples in cinnamon sauce and blended strawberries made for a fruity breakfast of champions. After I feasted I could've done anything–cleaned the bathrooms, ran up a mountain, or wrote a couple chapters in the novel I haven't started yet. But instead, I took a nap. That's not the fault of the breakfast though. That's just the way I roll. 
Apples in Cinnamon Sauce Recipe
(Versions of this recipe are everywhere including here and here)
*1 cup water
*2 tbsp. butter
*1 tbsp. corn starch
*1/8 tsp. salt
*1/2 c. sugar
*1 tsp. cinnamon
*1/2 tsp. nutmeg
*2 organic apples, peeled and sliced
Instructions: Bring water to a boil. Add all ingredients in order listed. Let simmer until apples are soft and the sauce is dark brown and syrupy.
***
After 10 minutes the apples and sauce looked like this.
Then I realized I forgot the sugar. How could I forget the sugar? I added it and after another 15 minutes, the apples looked like this.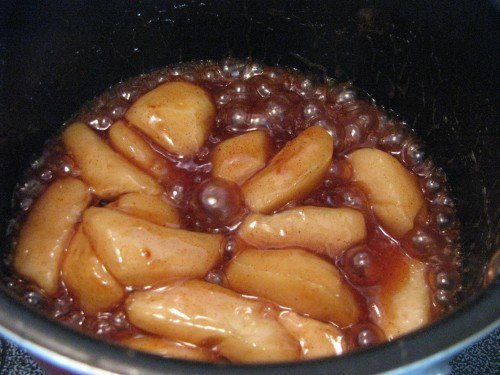 The apples were tender and tasted wonderfully sweet.
Strawberry Sauce Recipe
(Recipe from Our Best Bites)
*8 oz. organic strawberries
*1/4 c. sugar
*1 tsp. vanilla extract
Instructions: Add all ingredients to medium sauce pot and let simmer over medium heat for about five minutes. Then blend in food processor until smooth.
***
I'm always impressed with how amenable fruit is to sauce making. A little bit of heat and a little bit of sugar and voila…fruit sauce.  I've made blueberry sauce and raspberry sauce in the past, and each time I was equally as pleased.  There's absolutely no reason not to make your own fruit sauce for breakfast or dessert.