on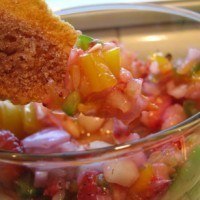 It's August, which is also known as the Saucy Dipper's "Month O' Fruit Salsas." I already told you about a mango-cucumber salsa and today you get lots o' strawberry-yellow pepper salsa goodness.
Now, I'm not one to brag, especially since the following recipe isn't really mine. I found inspiration on the Whole Foods website. However, I made this salsa for a barbecue last weekend and both friends and strangers raved about it. I said "RAVED."
I think it was popular for two reasons. One, you can't go wrong with fruit salsa in the summer. They really are refreshing and delicious. Second, the red wine vinegar added a lot of zing. So. Good.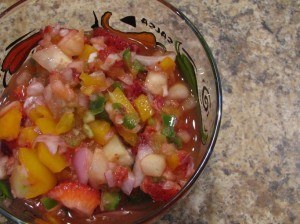 I decided to toast pita bread as a dipper. I buttered and sprinkled cinnamon and sugar on the pita before baking for 10 minutes. Highly recommend you do the same.
Strawberry and Yellow Pepper Fruit Salsa
6 large strawberries, hulled and chopped
1 small yellow pepper, de-seeded and chopped
½ cucumber, peeled and chopped
½ purple onion, finely chopped
1 large jalapeno, finely chopped
¼ c. red wine vinegar
½ lime, juiced
Chop it all up.
Throw it in a bowl.
Chill for an hour or so.
Eat!