I know what you're thinking: Enough with the pumpkin-flavored foods already!
Well, I say "no." While pumpkin is certainly a craze about to implode on itself, I still enjoy a well-made pumpkin dip and, after today, a well-made pumpkin sauce.
This recipe was inspired by our ol' pal Martha Stewart, but she's not the only one with pumpkin sauce recipes. You can find a variety of other pumpkin pan sauces that call for white wine, cheese, toasted pecans, sausage, cinnamon, and even sugar. The dish I concocted calls for none of these things I just listed, but if of one or all of the ingredients appeal to you, go for it. This is definitely the kind of recipe that you can get creative with. Not many rules to this one. 

Savory Pumpkin Sauce Over Rotini
Ingredients
8 pieces of bacon, crumbled
2 shallots, minced
2 garlic cloves, minced
3 tbsp. white wine vinegar
1 can of pure pumpkin puree
½ cup milk (or half and half if you want it heavier)
1 tsp. nutmeg
salt (to taste)
red pepper flakes (to taste)
Instructions
Fry up bacon. Reserve grease. Let bacon cool on plate. Crumble.
Saute shallots and garlic in bacon grease for 2-3 minutes or until a nice fond forms.
Add vinegar and scrape bits from bottom of pan. Let reduce for 2 minutes or so.
Add pumpkin and milk to pan. Stir.
Add remaining spice.
Let simmer on low heat for five minutes.
Serve over penne or rotini.
Sprinkle with bacon crumbles and fresh nutmeg.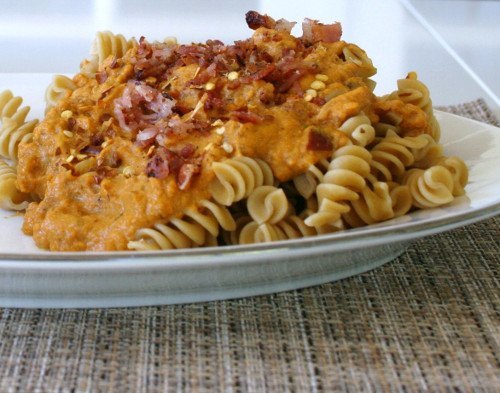 How do you do pumpkin?