on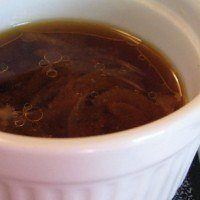 A few days ago I made the best French dip of my life. Actually, I think it's the only French dip I've ever made. Either way, I'm certain that this recipe will make its way into the rotation of meals here at the Lancaster house.
After smelling the delicious meat scents all day and enjoying a great meal, I was psyched to see so many leftovers. Leftovers are my friend. I decided to let the au jus cool before throwing it in the fridge…and then I forgot. I woke up the next morning to find my beautiful au jus topped with nasty looking white crud. Ruined!
Hopefully, this oversight won't happen next time. Trust me. There will be a next time.
How to Make French Dip and Au Jus in the Slow Cooker
*3-4 lbs. chuck roast
*Sprinkling of pepper
*4 beef bouillon cubes
*1 purple onion, chopped
*1 packet Lipton onion soup mix
*1 beer of your choosing
*2 c. vegetable broth
*Hoagie rolls
*Provolone cheese
Instructions: Season the meat with pepper (I chose not to use salt since there is plenty of salt in the bouillon, soup mix, and broth). Place all the ingredients into the slow cooker in the order listed. Cook on low for 8 hours. Put cheese on bread, toast, and serve.
Notes: You don't have to use a chuck roast; but I do recommend a roast. I didn't cut the fat off the meat until right before serving. I suggest you do the same…fat equals flavor. In lieu of bouillon cubes and vegetable broth you could use a quality beef broth. I used the bouillon and veggie broth, because it's what I had on hand, and because I still can't get excited about buying a meat stock since speaking with so many chefs about how to make sauce.
Most all French dip recipes I have read instruct you to serve the meat on crusty bread (including this recipe from Fat Girl Trapped in a Skinny Body), so I decided to toast sub rolls. Good bread makes all the difference! (And it's okay if you burn the edges a little.)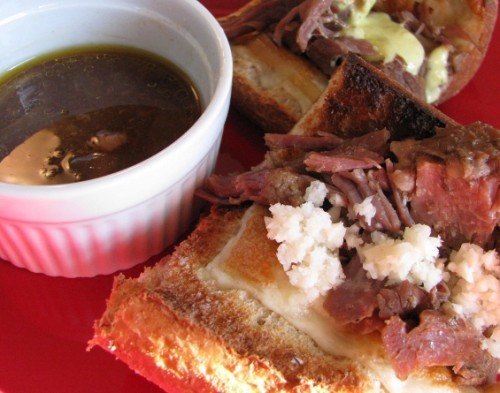 In addition to that lovely looking au jus, I also made a prepared horseradish and a horseradish aioli for dipping and spreading. You'll have to wait for those recipes, but here's a hint: They're darn good.
One last thing, I used a cheap and very light beer that I had in the fridge, but I've read that the darker the beer the better the flavor. There's something so rewarding about opening a beer at 8am. Naughty!
Join me on the NEW Saucy Dipper Facebook page!