on
Take a minute to Google the word "hummus." No, really. Go ahead. I'll wait.
Notice how many possible results there are? Google tells me that there are 3,830,000 hummus results, which is not quite as many results as bean dip gets (4.4 million), but it's still impressive. I mean, potato chip dip only produces 315,000 results!
My point here is that hummus is a fascination. It's a love affair. Seeing how it's Valentine's Day this next week I thought I'd share my own love affair with hummus, which includes my hummus recipe (took me five attempts to master it). But first up, let's talk about hummus love.
In a recent New York Times article, Hummus Catches On in America (as Long as It's Flavored),  reporter John T. Edge highlighted the fact that Americans love traditional Middle Eastern hummus, but our love goes further. We indulge in all varieties of hummus, including roasted red pepper, artichoke, and peanut butter flavored hummus. Yes, peanut butter.
Edge interviewed Majdi Wadi, the owner of Holy Land, who explained that his peers in his homeland of Kuwait and Jordan might not approve of all the hummus flavors the company produces, since most Middle Easterners stay committed to traditional hummus (chickpeas with garlic, tahini, and olive oil…basically).
It can't be denied that North Americans have adopted hummus and made it our own. One paragraph in the article really stood out to me.
"Majdi Wadi believes hummus is a breakthrough product. He talks about hummus as a bridge that spans chasms of ethnicity and religion and culture."
I agree. While living in New York I saw dozens of hummus-themed restaurants, and now, here in Colorado, I'm seeing some of the same. I don't know anyone who doesn't like hummus (Maybe you don't? Tell me in the comments.), and I find that I could eat hummus every day without tiring of it. As a snack, on a sandwich, as a side dish. You name it. I heart hummus.
Hummus has long been a staple food throughout the Middle Eastern part of the world–think Socrates and Plato–but the origin of hummus is not quite clear. In fact, there's heated debate on the topic. Check out this article from CNN that talks about the Israel-Lebanon debate over hummus ownership.  It's intense.
But enough intensity for one post. That same New York Times article introduced me to a YouTube video that I found hilarious. I apologize in advance, because this song will stick in your head.

Saucy Dipper's Hummus Recipe
*1 cup dried chickpeas
*6 garlic cloves
*3/4 cup tahini paste
*4 tbsp. extra virgin olive oil
*juice of 1/2 lemon
*dollop of sour cream
*1 tsp. kosher salt
*2 tbsp. water, optional
Directions: Soak chickpeas over night (at least eight hours), rinse, and boil until soft, possibly one hour.  Put chickpeas in food processor or blender along with all remaining ingredients except water. Blend until smooth. Add the water if you want a thinner texture.
Download the Saucy Dipper hummus recipe here.
Before water and an extra glug of olive oil.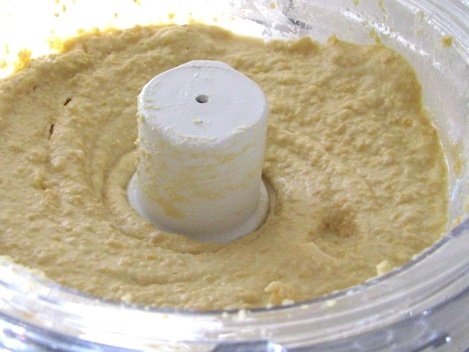 This hummus is almost there.
You really should start small with the flavorings, blend, taste, and continue to add ingredients to get the flavor you like best. Keep in mind that if you use chickpeas (also called garbanzo beans) from a can, then you can use the liquid from the can in place of water. However, I'd advise against canned chickpeas.
Not the cans!
To get a quality hummus, I think you must use dried chickpeas and fresh garlic. You may remember from my previous post about hummus experimentation that I've tried long and hard to get the right hummus recipe. It was the dried chickpeas that finally made the biggest difference for me.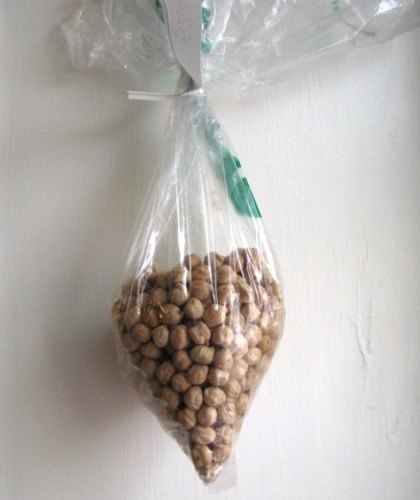 It's less expensive to buy dried chickpeas in bulk and they make a better hummus.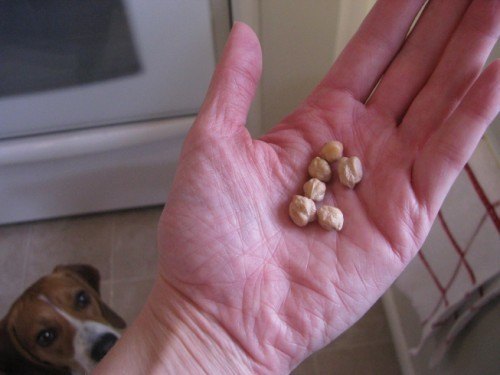 Even beagles like hummus
To remove the skins or not to remove the skins
I vote that you don't take the skins off your chickpeas. Honestly, I've tried it both ways and I cannot tell a difference in taste or texture. Plus, taking off those skins takes time. Seriously, this pile took upwards of 30 minutes.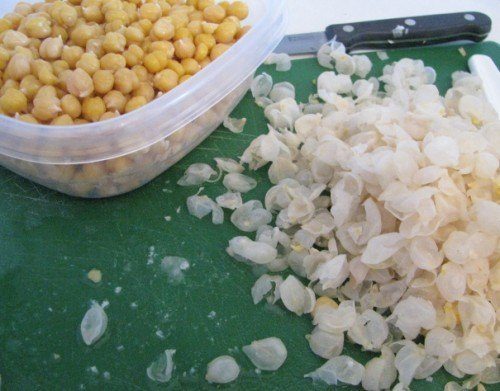 For a thick, smooth hummus
I created a smoother hummus when I boiled the chickpeas for 30 minutes and had a higher chickpea to other ingredient ratio (about 2 cups chickpeas). I can't explain why this is, but it was definitely thicker. I preferred the taste of the hummus recipe above, but if you're looking for texture, experiment with your chickpea count.
For an Americanized (flavored) hummus
Get crazy with your flavorings if you like. Really, all you need to do is add spice or your veggies right into the blender with the rest of the ingredients. However, you may need to modify your water, olive oil, and salt amounts for a perfect flavor. Try cumin, paprika, chipotle powder, parsley, or anything else that floats your hummus boat.
How to eat your hummus
Oh, let me count the ways. With carrots, celery, cucumbers, crackers, pita bread (of course), sandwich bread, and the list goes on.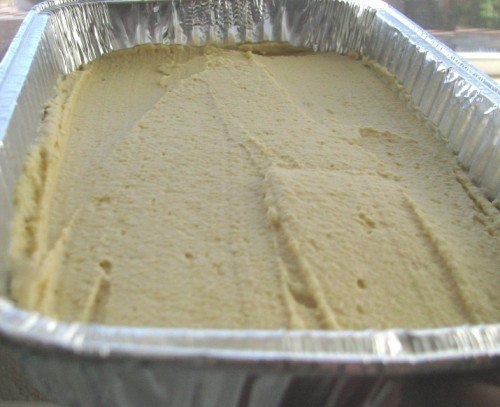 I recently made a seven-layer Mediterranean dip with hummus, the start of which is pictured here. Probably not traditional, but boy was it delicious.
How do you eat your hummus?